This is for the topic "Giant Monsters" over at
Drawer Geeks
. Probably the first time I've slammed together colors without looking back and nitpicking. Not that I'm saying it's perfect, but it was a good experiment. Done with brush pen, pen and colored in Photoshop, in about an hour or so.
True story, I got the idea to give this monster piercing blue eyes after hearing
Stephen Harper
described that way. I'm just sayin'...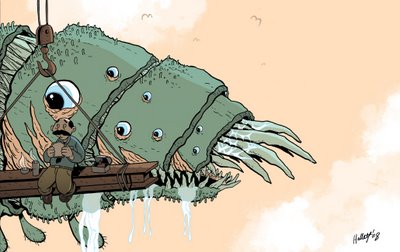 Labels: brush pen, Drawer Geeks, giant monsters, Photoshop, Stephen Harper