The first volume of the Fablewood Anthology, which includes my story
"The Spirits & The Woods"
is available to pre-order, and appears in this month's
Previews
. It should be in stores around January 30th, 2008. I cannot express how utterly exciting this is for me. The stable of talent in this anthology is really phenomenal, and it is an honor to be a part of it. Here's the official word:
FABLEWOOD GN VOL 01
NOV07 3306
(Page 208. Page 16 in the order form Catalog.)
Softcover, 144 Page Full-Color
$19.95
FABLEWOOD compiles the talents of up-and-comers like Ryan Ottley (Invincible, Superman/Batman Annual #1), Manny Trembley (Panda Xpress, Sam Noir: Samurai Detective), Joe Infunari (Oni Talent Search, Borrowed Time), J.P. Ahonen and Sarah Mensinga (Flight 4) with talented newcomers like Chris Studabaker (Howard E. Day Prize Nominee), Kevin Crossley (Event Horizon), Axel Machain (Metal Hurlant), Joe Suitor (Popgun Anthology) and more.
Our longest FABLEWOOD story "Under the Midnight Sun" was nominated for the prestigious Howard E. Day Award. Comic legend Dave Sim (Cerebus) stated that "through a balance of pencil and ink on the interior pages and Christopher Studabaker's evocative, austere and expressionistic dialogue and narration, it's a very successful experiment."
http://www.ape-entertainment.com
http://www.fablewoodcomic.com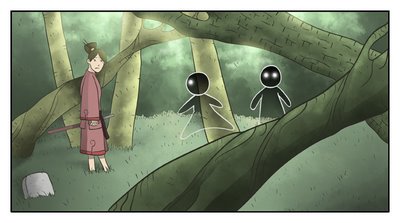 Labels: anthology, comics, Fablewood, fantasy